Monongahela Township was settled in 1764 and incorporated in 1822. Monongahela Township is the location of a prehistoric petroglyph site known as the "Sugar Grove Petroglyphs.". Created by an unknown Native American people, the petroglyphs are an archaeological site, and they have been listed on the National Register of Historic Places. Monongahela Township is in 9th Congressional District, the 46th Senatorial District, and the 50th Legislative District of Pennsylvania.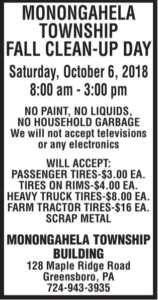 The next monthly  meeting will be Monday, Nov. 5, 2018 at 9:00 a.m. at the township building.
Trick or Treat in Monongahela Township will be on Oct 31, 2018 from
6-8 pm. 🎃👻🎃👻🎃
 Monongahela Township Community/Sr. Center Fundraiser winners were drawn July 29th Check out the community center link for winners!!!
SaveSave
SaveSave
SaveSave
SaveSave
SaveSave
SaveSave
SaveSave