---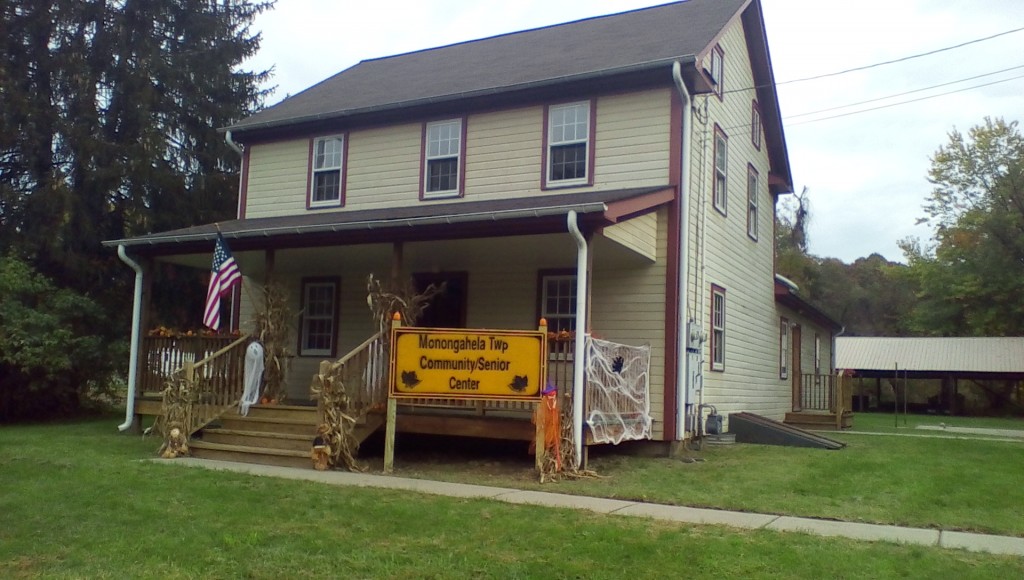 Monongahela Township Community / Senior Center
Next Senior Citizen's Day August 16th, 2018 from 12:00 – 2:00
Join us for this very informative presentation!!!!
SEE YOU THERE!!!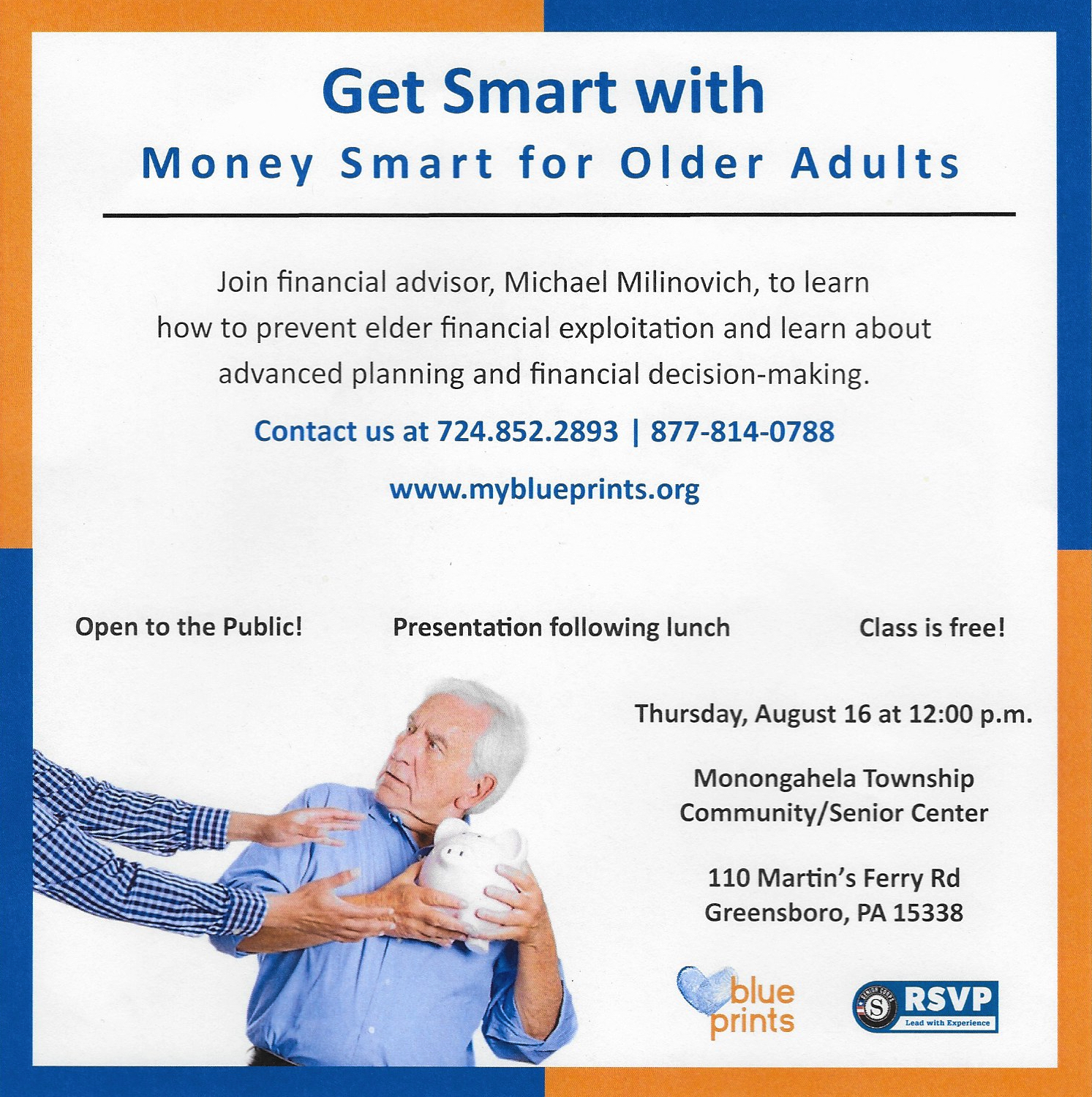 Come join us, Holly Shipley of Back Bay Catering is catering our lunches. For more information contact:
Karen Kelly 724-943-3196
Trudi Monahan 724-943-3721
June Hellen 724-943-3464
---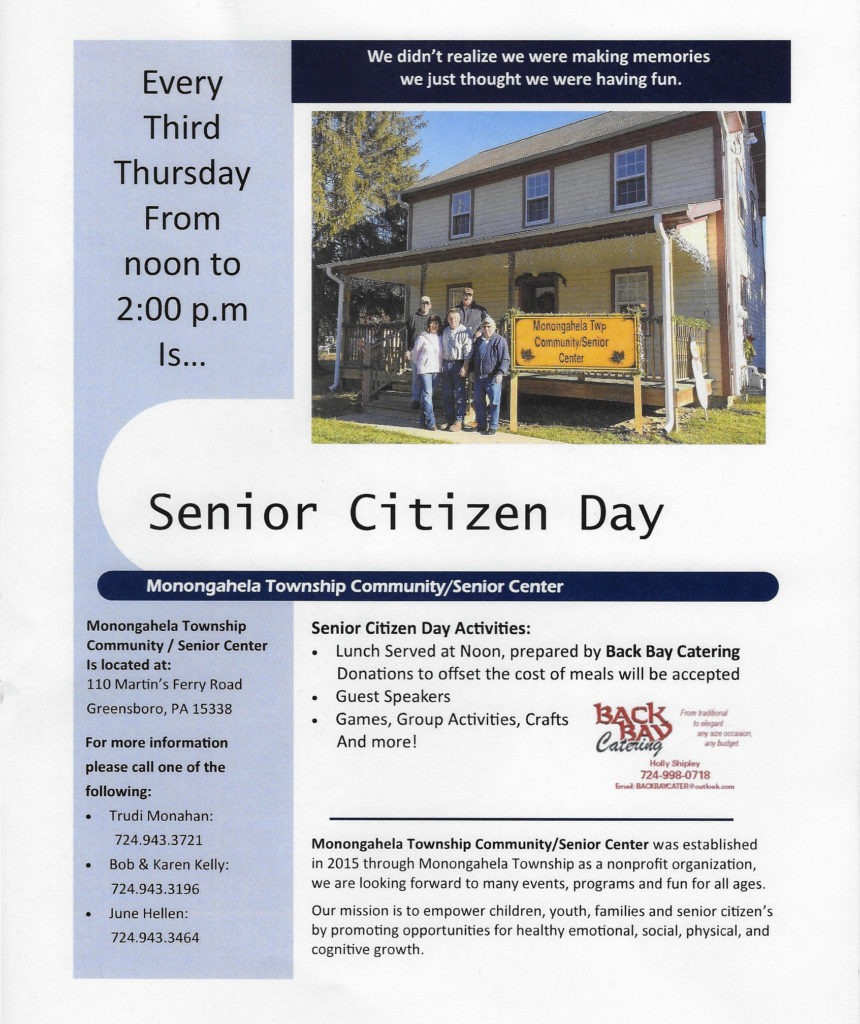 ---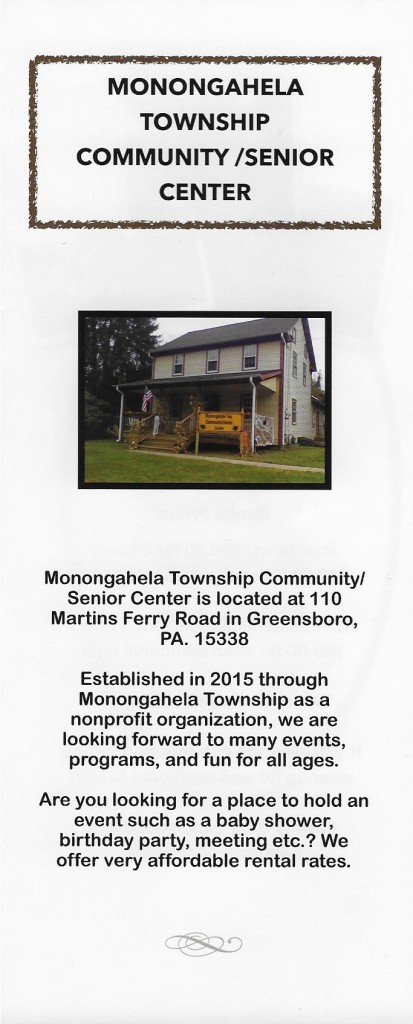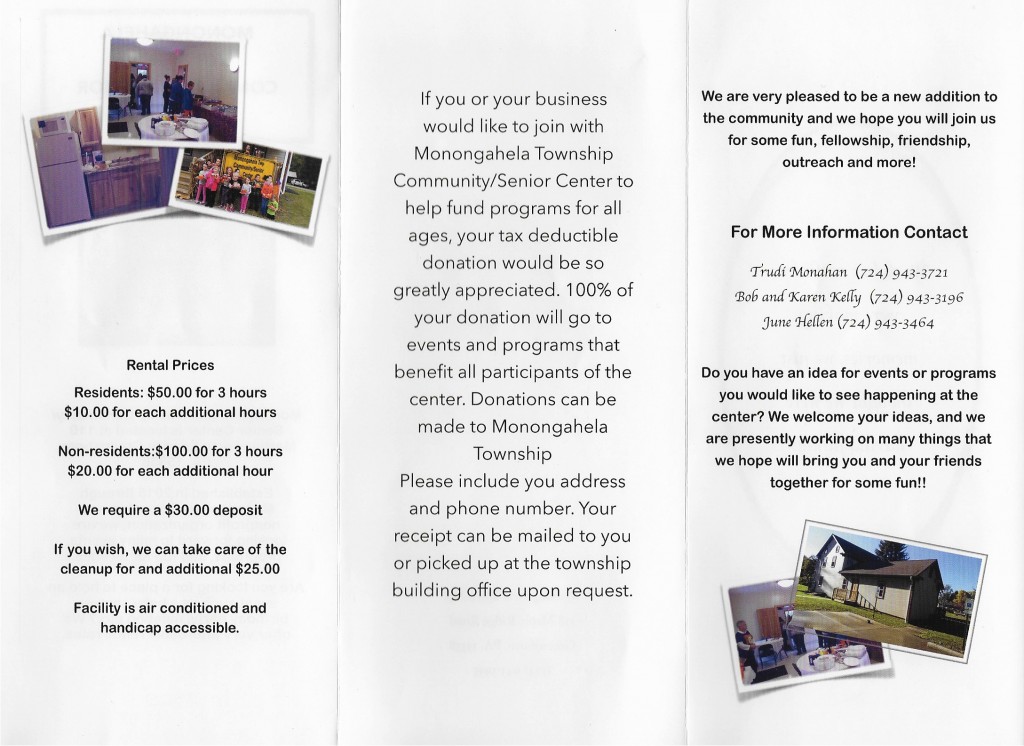 Congratulations to the winners of our RESTAURANT GIFT CARD BONANZA fundraiser. The names were drawn at the July 20th Senior Citizen Day by to of our attendees, Randy Lewis and Naomi Shubert. 1st place winner is Scott Blair from the Point Marion area and 2nd place winner is Sherry Bochna from Greensboro. Congratulations to you both and enjoy those gift cards!! We would like to thank all of the restaurants who donated gift cards, (Two Rivers Restaurant, Dilliner), (Boston Beanery, Uniontown), (Caputo's, Dry Tavern), (Hartley Inn, Carmichaels), (N& J's Pizza Palace, Point Marion), Olive Garden, Applebee's, (Bob Evan's, Uniontown), (Chili's, Uniontown) (Fat Angelo's, Masontown), (Pizza Hut, Masontown), (Shogun, Uniontown), (El Patron, Uniontown), (Meloni's, Uniontown), (Red Lobster, Morgantown), (DJ's Family Diner, Carmichaels), (Taco Bell, Uniontown),  and also to (Sheetz, Uniontown) for the wonderful gift basket. Thank you to everyone who participated by donating for the opportunity to win these great prizes and to everyone who helped make this a great success. To our committee members and center members, thank you so very much for all of the work you put into this, you all all so greatly appreciated!!
---
On behalf of all of us at Monongahela Township Community/Senior Center, we would like to express our thanks to Sheriff Brian Tennant for stopping by our Senior Day yesterday to reach out to our residents about concerns they have for our area. After speaking to all of us and enjoying lunch with us Sheriff Tennant took a tour of the pavilion and the work being done to it as I explained some of our goals for our center. We were all overwhelmed when he presented us with a very heartfelt and generous donation. Sheriff Tennant, you are a wonderful example to our county and our communities. You are kind, caring, concerned and dedicated, and we hope you know how much your thoughtfulness touched each of us. Thank you so very much!!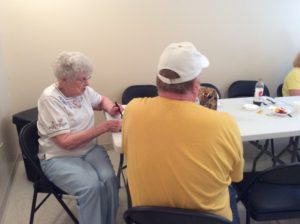 ---
---
COME CELEBRATE CHRISTMAS – DECEMBER 11, 2016
5:00 pm -7:00 pm
THIS IS GOING TO BE FUN!! MAKE SURE AND BRING THE CHILDREN TO SEE SANTA!!
Please help us to continue to provide programs and events at the community center, everything we do is through donations and fundraising. You can help by donating cookies for the bake sale or a basket for the Chinese Auction, or by making a monetary donation. You can contact anyone on the bottom of the flyer for more information. All proceeds go towards activities at the community center. Your help would truly be appreciated. Thank you and Merry Christmas and Happy New Year to All!!!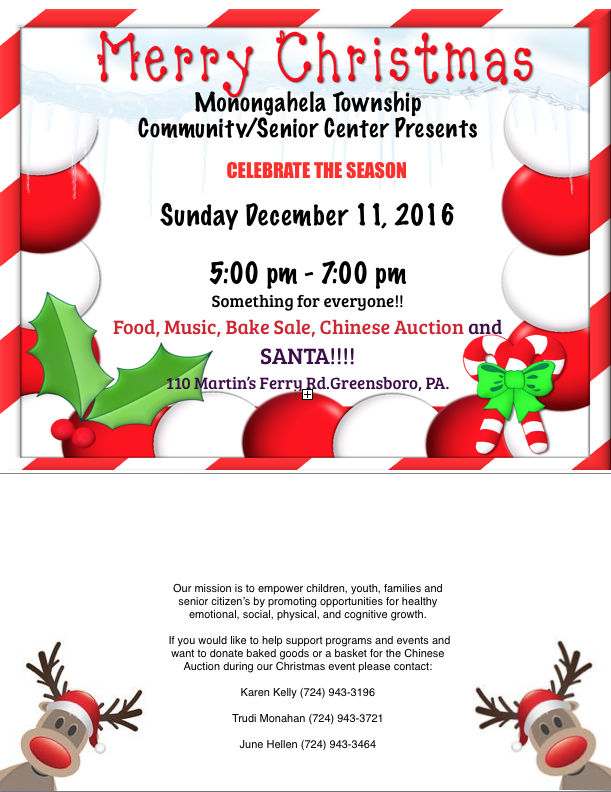 ---
---
 Bring the kid's for some Halloween fun!!!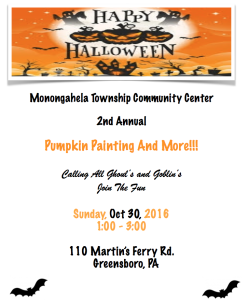 ---
Thank you to everyone who came and joined us for October Senior Citizen's Day and for the Flu Shot Event sponsored by Community Action Southwest and Giant Eagle. The Center purchased Pizza from Fox's Pizza Den and a huge thank you to Two River's Marina who donated a wonderful salad. We would also like to send a big thank you to Jennifer from Senior Life for the wonderful cookie tray and for making scented body sugar scrub with everyone,  that was fun!!! Another great afternoon!! Come join us!!
We hope to see you all at our next Senior Citizen's Day on November 17, 2016 from 12:00 – 2:00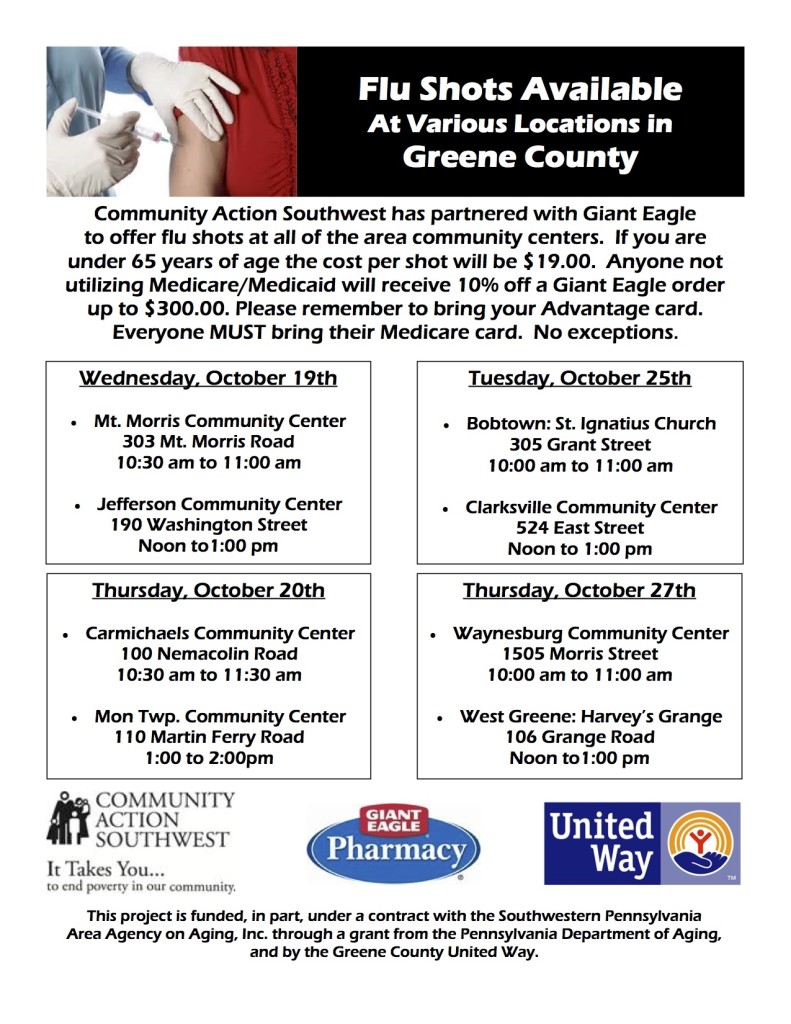 ---
---
And the winner of "DINNER OUT FOR A WEEK" valued at $330.00 is BOBBI ANTILL of GREENSBORO, PA. Congratulations Bobbi!!
The second prize winner of gift cards valued at $70.00 is ANGELA  LIGGETT of Dilliner, PA. Congratulations Angela!!
We would like to thank everyone who donated to our latest fundraiser "Dinner Out For A Week". We had a great time seeing lots of friends and family at the Cabbage Flats Yard Sales where we were set up to kick off this fundraiser. I want to thank our committee members who did a great job making this such a success and for all of your hard work!! Thanks everyone so very much for helping support our Community/ Sr. Center
---
Thank you to everyone who came and received their Farmer"s Market Voucher"s and shared in our Senior Citizen's Day on June 18th and a big thank you to Nancy Riggle from the Greene County Area Agency on Aging for coming out to assist with the applications. We had a great turnout and hope to see you all back on July 21st, 2016 for our next Senior Day. We will continue Senior Citizen's Day every third Thursday of the month from 12:00 – 2:00. Come join us and bring a friend for lunch, Wii Bowling, games, puzzles, and more!
COMMUNITY / SENIOR CENTER BROCHURE WITH RENTAL PRICES
SaveSave
SaveSave
SaveSave
SaveSave